In order to not waste a single piece of homegrown produce and to save on grocery costs, it's a good idea for the homestead and family if you and I learn the best ways to preserve food from the garden. In this article we discuss 8 ways to preserve what you grow, including how to preserve food without canning or any other special equipment.
The absolute best way to preserve food from the garden is by eating it fresh! All those nutrients, 100% available for use in your body means you're storing the produce you grow in your bone structure and muscle mass. Yay for fresh veggies!
However, for your food storage program, the most effective way to preserve food from your garden is the way that your family will use the most! If you hate canning, then don't plan on making it your preferred method for preserving the harvest.
Additionally, if you don't like to use canned foods in meal preparation, that's an important consideration. You also need to keep your budget in mind. If you don't have a food storage budget at the moment, then plan to start with the cheapest methods available.
Having said that, however, I do encourage you to keep an open mind and be willing to be very elastic when it comes to your food preservation efforts. Gardening requires a lot of work and time investment; so, too, will preserving the harvest.
Be willing to learn by messing up sometimes, and be aware that you will need to budget for time regardless of which of these eight methods you try!
The Best 8 Ways to Preserve Food from the Garden
We'll cover each method in order of simplicity. The first method is to grow crops that are "self-preserving". In other words, grow crops that can be harvested and then placed in home storage in their original form.
These crops include:
Potatoes
Pumpkins
Onions
Cabbage
Carrots
And many more!
These are crops suitable to "cold storage" and can be kept in a cold, dark storage room or root cellar.
Sometimes these crops can simply be harvested, placed in a box, and put into storage. Others require a little more care, like being:
wrapped in newspaper
placed in damp sand
stored away from other vegetables to prevent premature aging
The best way to learn the nuances of root cellaring or cold storage is to find a few great blog posts and a few great books. Hopefully, the following will help.
Cold Storage Articles and Books:
Beginner's Guide to Root Cellaring (Without a Root Cellar) from Practical Self Reliance.
Root Cellars 101 – Root Cellar Design, Use and Mistakes to Avoid from Common Sense Home
10+ Vegetable You Can Grow & Store Without Canning or Freezing from Living Life in Rural Iowa
Root Cellaring: Natural Cold Storage of Fruits & Vegetables, a fantastic book by Mike and Nancy Bubel.*
*Please note that all print books can be found used online to save a little money (my favorite place to buy used is Thrift Books.com). They may also be purchased new at your favorite brick-and-mortar or online bookstore.
How to Store Food After Harvesting – Building a Root Cellar
A hundred years ago, nearly every home in the US was built with a storage cellar or a separate root cellar. In our day, we might need to improvise our root cellar storage and/or build our own.
To learn to improvise root cellar-type storage without actually building a root cellar, try these ideas:
DIY Cold Storage and Frugal Root Cellar Ideas from Little House Living
Root Cellar Ideas: 10 Root Cellar Plans to Make a Root Cellar from Valley Food Storage
Still, you may decide that you'd like to have an actual root cellar. The first thing to do is read:
—>>> Do I Need a Homestead Root Cellar?<<<—
Then, if you decide you build one of your own, you'll need to get your own copy of How to Build a Homestead Root Cellar from Teri Page in which she details exactly how to get started.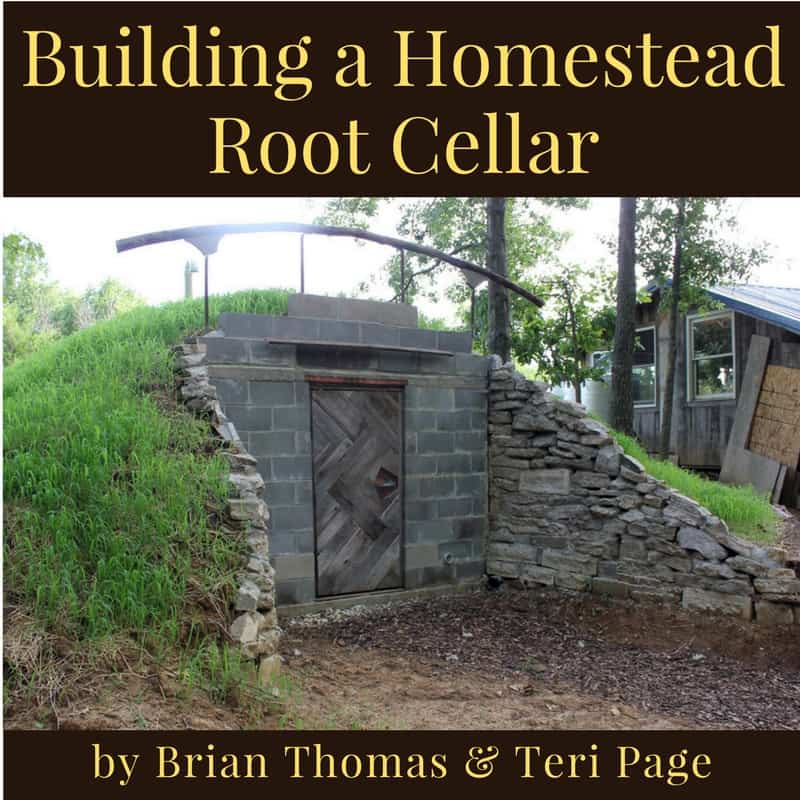 How Do you Store Garden Food Long Term?
Even with a root cellar, you'll only be able to store food from the garden for about a year in its raw form. To extend your food storage longer than a year, you'll need to expand your methods.
Here is a list of ways to preserve food from the garden to last for years in order of longevity:
Dehydration – either air-dried or with a dehydrating unit
Canning – either water-bath or pressure canning
Freeze Drying – the unit is expensive but provides the best preservation
Dehydrating Food From the Garden
The main function of food dehydration is to remove the water from the produce to increase its shelf life. Water leads to decomposition, so its vital to evaporate it from the food so that it can be safely included in our food storage program.
To do this you can:
Air-dry your garden produce on screens placed in the open air. This method works very well if you live in a dry climate like a desert. If you live where the summers are humid, you will struggle to have success with this method.
Build a solar dehydrator which can be cheaper than a commercial unit and which uses the heat of the sun to dehydrate your food instead of electricity.
Purchase and use a commercial dehydrator that is designed to be used indoors with electricity. These units are reliable and come in a variety of sizes and prices. This is the method I use most often because of my climate.
To get you started with food dehydration, please read:
—>>> Best Foods to Dehydrate <<<—
Dehydrating Articles and Books:
Please bear in mind that you can also preserve herbs and flowers from the garden with this method!
Canning Food From the Garden
Canning is a food preservation method where you're doing the opposite of dehydrating your produce – you're actually adding liquid to extend shelf life! The canning process includes bottling food in glass jars with extra liquid and then bringing those foods to a boil to allow steam to be removed from the jars. With the special lids used for canning, this extraction produces an air-tight seal around each jar, thus preserving the food.
There are two methods of canning you might use depending on what kind of food you are preserving: water bath or pressure canning. Learning to can does require the acquisition of some special equipment and a certain level of skill. However, you are perfectly capable of acquiring both, so don't let the work of canning scare you off the method.
Canning Articles and Books:
Pressure Canning by Practical Self Reliance.
Water Bath Canning by Simply Canning.
Canning Jars and Newbie Tips by us here at Homestead Lady.
Pressure Canning for Beginners and Beyond: Safe, Easy Recipes for Preserving Tomatoes, Vegetables, Beans and Meat, by Angi Schneider, is another book I own and use every year.
The Farm Girl's Guide to Preserving the Harvest: How to Can, Freeze, Dehydrate, and Ferment Your Garden's Goodness by Ann Accetta-Scott – another quality book that I personally own and love.
To help you organize your canning year and prevent overwhelm, grab your free sheets below! (If you're already a member of our newsletter family, you can access your worksheets in your member library.)
Freeze Drying Food From the Garden
Freeze drying employs the same basic principles as dehydrating to preserve food; namely, removing all the water. The process of freeze drying includes flash freezing the produce to an extremely low temperature and then slowly heating it to turn the ice into vapor that is then removed from the food. The fancy word for this process is sublimation.
Freeze dried foods can last for years, even decades, without decay. Additionally, the freeze drying process retains nearly all of the original nutrients, flavor, and texture (in most cases) of the food.
To answer more of your freeze drying questions, please read:
—>>>The Best Foods to Freeze Dry<<<—
How Do You Preserve Food Without Canning, Dehydrating, or Freeze Drying?
The following are some methods of preserving foods from the garden that we may not think of normally. They are:
Fermentation
Making Products
Trading
I'll briefly cover each of these methods and why you might want to consider them so you can decide if you'd like to try them this year. You will probably want to do some extra reading on each, so I've included some of the articles and books that I've used in my own studies.
Preserving Foods Through Fermentation
For highly perishable produce like berries and dairy (if you have dairy animals on the homestead), fermentation can prolong their shelf life by a few days, weeks, or even months.
For example:
You can also lacto-ferment veggies like cabbage and cucumbers for raw pickled products like kraut and pickles. Here are a few recipes to consider:
When you ferment a vegetable or fruit, you extend its shelf life without heating it. This enables the produce to retain and even increase its nutritional value. To learn more about that, please see our "Resources" section at the end of the article.
Preserving Foods Through Making Products
This method is great for large harvests where the garden abundance outpaces your ability to preserve it all! These methods are also good for preserving herbs and flowers from the garden.
Here are a few examples of ways to preserve garden abundance by making products:
Incidentally, Nerdy Farm Wife, aka Jan Berry, writes my favorite natural products creation books. I have several of her soap books, as well as titles on homemade cleaning and beauty products. I love her teaching and writing style!
To learn more about her products, you can click below:
Preserving Through Trading
If you have an abundance of produce, herbs, or flowers from the garden but you don't have an abundance of time, consider trading these items with other homesteaders for products you need. Trading builds the homestead community and is a great way to cut out the middleman of grocery stores.
Trading produce is also a way to preserve your time and energy, two important forms of capital! (Capital isn't limited to money!) Sometimes, it's simply more profitable to trade away your extra garden produce than it is to try to preserve it all yourself.
Before investigating trade with other homesteaders, consider the market value of each item. Be ready to be flexible, but have a realistic idea of what each piece of produce is worth.
Be sure you're being compensated but don't ever be afraid to be generous. Homestead generosity always comes around to bless you – like an abundant boomerang!
For it is in giving that we receive.
― St. Francis of Assisi
Recap: The Best Ways to Preserve Food From the Garden
Ok, so just to recap these methods to preserve food from the garden in order of longevity:
Use Fresh: Store these garden foods as nutrients and health in your body. Fresh is always better, so grow varieties that are self-storing.
Fermented: These methods include lacto-fermented fruits and vegetables, as well as preserved dairy like yogurt and cheese. Not only are these methods healthy but they provide variety to your food storage program. FYI: there's a huge variety in preservation time for various fermented products, so experiment. Also, fermentation and cold storage items last roughly the same amount of time. In fact, it's common to place fermented foods into cold storage to extend their shelf life.
Cold Storage: Preserve produce for use during the off season with very little effort on your part compared to something like canning. Keep in Mind: cold storage requires space!
Dehydrated: Compared to other tools used for preservation methods, a food dehydrator is a relatively cheap piece of equipment to purchase. You can also make your own solar dehydrator to save both money and electricity.
Canned: One benefit of home-canned foods is that they provide ready-to-use ingredients and condiments for quick meals! Many foods can be stored for a year or more.
Freeze Dried: This method for preserving foods from the garden is the best for nutrient retention, ease of reconstitution, and longevity of the product. Freeze dried foods can be saved for years! The main drawback is the cost of the unit and accompanying equipment.
Traded: Trading extra produce from the garden isn't an obvious way of preserving the food because what it really preserves is capital. Capital can be defined as money (the savings you reap from trading instead of purchasing), as well as time and energy required to preserve extra garden abundance. If you trade veggies for other items you need, you don't need to spend space or effort to save foods you may not really require.
Tinctured/Soaps/Lotions: These "preservation" methods are particularly suited to herbs and flowers. Many of these grow in such abundance that finding a way to preserve them by including them in value-added products like soaps can serve not only your homestead, but perhaps your homestead economy. Ever thought of preserving foods from the garden and turning them into a homestead side hustle?
—>>>25+ Homestead Side Hustles<<<—
Additional Resources
Garden Produce Preservation Resources