Can I be a real homesteader if I don't stand over a canning pot every harvest season?! Of course you're a real homesteader and, no, you do not have to can every year, if you don't want to. What you do need to do is set some quality food preservation goals for the homesteading year. We can help with that!
Ah, canning season! This is where the rubber meets the road around August (in my growing zone) when the harvest is coming in by the bushel. If you're smarter than me, you'll be very diligent about food preservation all year round so that you don't burn out as quickly in the late summer because you've left it all until then.
To help you gauge what and how much of each fruit, veggie, and meat you would like to preserve on your homestead this year, let's take a few minutes to talk about food preservation goals.
Setting Food Preservation Goals
First, let's start in the garden by answering these 3 questions:
How much of each product will you need preserve this year? In other words, how many cans, bags, or jars of green beans, carrots, apple slices, jam, ground beef, etc. will feed your family?
How much of your own produce do you want to grow for preservation? For example, are you going to grow all the green beans you preserve? Or will you purchase them from the farmer's market?
If you are growing what you preserve, when will you plant your crops to achieve your preservation goals? Answering this question will require that you decide when you want to harvest the crop from your garden for preservation.
Let's take each question and discuss it a little to help you decide what kind of year you'll be having in the garden and the kitchen.
Food Preservation Goal #1 – How Much Food Do You Need to Preserve?
The answer to this question will be different for every family and for every vegetable. Let's use tomatoes to begin our discussion.
I can usually get by with 6-8-gallon sized bags of dehydrated tomato slices a year. I prefer dehydrated or freeze dried tomatoes to canned tomatoes. However, I do like to have some spaghetti sauce, barbeque sauce, and tomato jam canned up for our use.
All these preserved tomatoes equates to about six bushels of fresh tomatoes, bare minimum. But that's at my house – what about your house?
How do you use tomatoes?
Do you need to can them?
Or dehydrate them?
Maybe preserve them in some other way like freeze drying or preserving in olive oil?
To begin to guesstimate how many bushels of fresh tomatoes you will need to preserve each year start looking at how many commercially canned tomato products you consumer in a year.
How many times a week do you eat spaghetti? How many cans of tomato sauce and/or tomato chunks do you consumer when you do?
How many times a season do you eat homemade tomato soup? Other tomato-based soups? Lasagna with red sauce?
If you've never thought much about counting how many cans of something you use per meal, don't fret. Get a grocery journal and just start writing it down. You'll see patterns emerge.
After that, it will be much more simple for you to make pretty accurate guesses about how much volume of each home-preserved food we need each year.
How Long Should I Plan to Keep Each Home-Preserved Item?
This is just a little aside to remind you that you only need to plan for one year at a time. Some home-preserved foods will last longer than a year, but their nutritional content starts to go down in canned and dehydrated foods. Freeze dried foods retain their nutrition incredibly well, with almost no measurable loss of health.
Apart from those magical freeze dried foods, most will only last a year with good flavor and nutrition intact. Makes your food preservation goals so much easier to set and keep reasonable!
Other Factors Effecting Food Preservation Goals
Some vegetables I don't have experience with canning yet, like carrots. I'd like to can them this year because I've tried freezing and dehydrating carrots in the past and am not particularly pleased with the results of either, though both are very usable.
Since I don't have experience using canned carrots in the kitchen, I'll just guesstimate how many carrots I need to grow throughout the season for preservation and see how it goes. It's ok if I guess wrong; I'll just take notes and do better next year.
Plus, with something like carrots, you and I can also factor in the amount of time they'll do well fresh in the cold storage of a root cellar or basement room. Root cellaring isn't a preservation method for the long term but keeping raw foods fresh as long as possible is something our bodies will thank us for in the dark days of winter.
—>>>Click here to learn more about how to build a homestead root cellar<<<—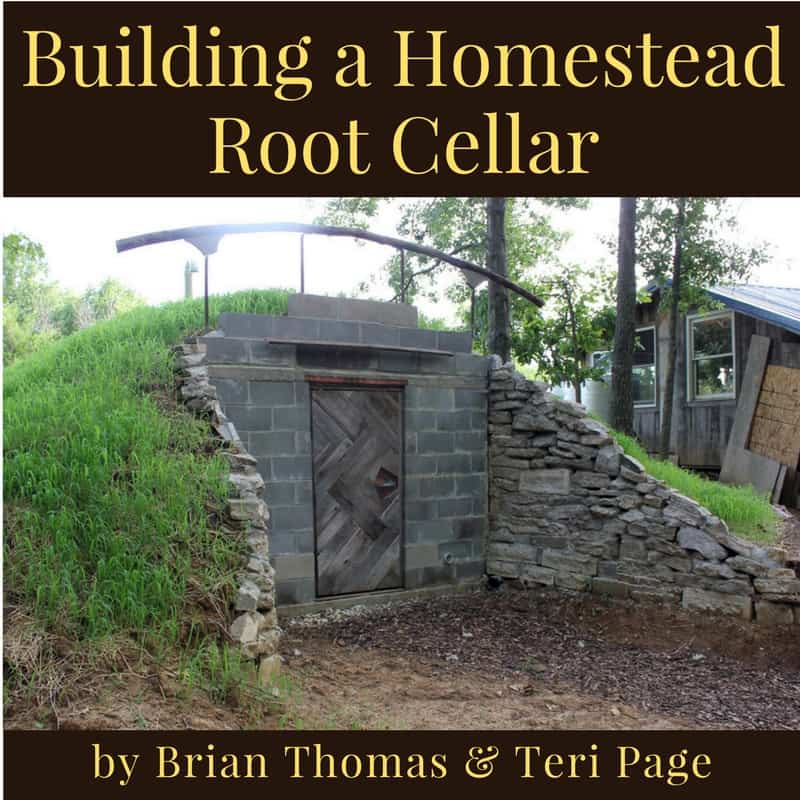 Food Preservation Goal #2 – How Much Product Do You Need to Grow This Year?
First of all, you do NOT have to grow everything you plan to preserve. You can purchase in bulk from supermarkets and farmer's markets alike. However, if you are a gardener and would like to preserve what you grow, we can help you walk through some questions and answers.
For Canning
Using your estimates from goal #1, let's enable you to figure out how many tomato plants you will want to plant in the garden. This Vegetable Conversion Chart PDF will give you an idea of each vegetables bushel and bunch weight.
For example, a bushel of vine tomatoes weighs 53 lbs which will yield roughly 18 quarts when canned. Which means each quart contains about 3lbs of tomatoes. Remember that this is an estimate because each variety of tomato differs in how much water they typically contain.
For Dehydrating and Freeze Drying
The best way to estimate how many tomatoes you'll need to fill the trays is to simply slice and pack them, noting how many it takes to fill the unit. My freeze dryer will hold about ten large, sliced tomatoes (I have the largest, 5-tray freeze dryer from Harvest Right.) Whereas, my Excalibur 9-tray dehydrator will hold twice that.
So, How Many Tomato Plants Do You Need to Plant?
Remember, this is an estimate because each variety of tomato is different in both size and water content.
A single slicer-type tomato plant can produce between 20-30 lbs. as a general rule; perhaps even as much as 50 lbs. Some over achievers under the care of experienced growers can weigh in at hundreds of pounds per plant! Let's assume that you and I will produce typical yields, though.
So, how many quarts of canned tomatoes do you think you will need this year to feed your family? After counting up all the sauces, soups, and stews, let's say you've guesstimated that you'll need 100 quarts (this makes the math easy).
100 quarts x 3lbs. per quart estimate = 300 lbs. of tomatoes. Or ten tomato plants, bare minimum.
Use this same basic run through and equation for each crop you're growing and preserving from carrots to beets, potatoes to corn. Be sure to use the Vegetable Conversion Chart to get an idea of weight. The internet, especially plant and seed catalog sites can help with estimating yields per plant in pounds.
How Much Product Do You Want to Grow Yourself?
This can vary from year to year because sometimes the tomatoes do well and some years not so much. Some seasons see you accomplishing all your food preservation goals in an organized fashion; other seasons, life just happens.
It's certainly a wise idea to plan to grow some and purchase some from local growers. That's what local growers are for and they're good at it! If this isn't the year you grow all your own produce for preservation, no worries. Just do what you can do.
For example, as I write this, it's nearly the end of May and we're still in the middle of moving so I'm most likely going to be too late (given the zone I'm moving into) to plant my own tomatoes this year. Since our family can't go a whole year without dehydrated tomatoes, homemade barbecue, spaghetti sauce and ketchup, I'll be purchasing enough tomatoes for my preservation needs from local growers.
"Store" Food In the Garden
I may have time for planting some things for later harvest, though, and so the kids and I have been looking at what we might plant in our fall garden. Yes, the fall garden!
Use all the seasons available to you and don't get too upset if you miss planting something in the spring garden that you really want to preserve for the coming year. There are some vegetables you can even grow over the winter if your weather isn't too extreme.
With a little creativity, in most growing zones, you and your family can harvest food crops year-round. It may sound like a lot more work but, bear in mind, if you have harvests "stored" and growing in your garden year-round, you don't have to work to can or dehydrate them.
For example, if you want kale in February, all you need to do is go out to the garden and harvest some. If you're growing it, that is.
Winter gardening takes some planning, but it's an excellent way to extend the fresh harvest of foods for your family. It can also take some pressure of your shoulders since you don't have to preserve fresh, growing veggies!
(Please Note: if you'd rather eat your own head than garden year-round, forget I mentioned it and move on to question number three.)
Be Realistic About Garden Space
After you think about how much you need to grow, look at the size of your garden and make sure your plans will fit into the space you have available. If you don't have enough in-ground garden space, you may want to cover your deck with a container garden.
—>>>If so, see the Food in Pots section in The Homestead Garden chapter of our book, The Do It Yourself Homestead<<<—
You may also want to investigate if you have a community garden nearby, or if you can rent some garden space from a local farmer. Perhaps a neighbor would be willing to let you use their backyard if their garden days are done.
Don't give up – you'll find the growing space you need! Gardeners are really determined people, after all.
Food Preservation Goal #3 When Will You Plant to Reach Your Preservation Goals?
Here's a little more on growing what you preserve. After you've figured out garden space, you need to come up with a planting schedule.
If you're growing your own produce to preserve, you need to be sure to plan your garden plantings accordingly. There are basically two ways to plant a "canning/preserving garden":
Succession Planting
One option is to learn, live and love succession planting so that your produce is ready for harvest in intervals, with something maturing pretty much every week of the season.
What is succession planting? Succession planting is the practice of planting separate rows of the same vegetable, a week or two apart.
For example, to keep beets ripening in the garden over several weeks, I plant one row of beets in one bed, one week.
The next week, I plant another row of beets in another bed.
And so on and so on, until the weather gets too hot for beets.
This is a good method to employ in gardening, even if you don't preserve your harvest, because it keeps you in beets consistently, instead of having only one big bunch of beets one week of the growing season.
This means that you always have something ready to be harvested and preserved in smaller batches. This can be a life saver for the busy person who only has an hour here or there to devote to dehydrating green beans or canning beets.
Ripen All At Once
On the other hand, some of us might prefer to get it all over with at once! So, we plant several large beds of carrots that will, for the most part, ripen at the same time and need to be dealt with in a big batch.
The key point to consider here is that, when the harvest is ready to be preserved, you really need to clear a large chunk of time to get it all done at once. FYI, after your preservation batch is harvested, you can still plant more carrots to eat seasonally.
It's completely up to you, your personality and what your schedule looks like.
Confession Time
I favor "trickle" preservation by using succession planting and indeterminate tomatoes that ripen at different times that enable me to can and dehydrate here and there. However, I'll honestly confess that I'm inconsistent with preserving food throughout the year.
Every harvest season from August to November I'm a crazy, food preserving person who wishes she'd stuck to her plan a little more strictly.
I'm no better with big batches of foods to preserve, either, in the interest of full disclosure.
I've had bushels of carrots or corn or beets to do all at once and, if I'm not careful with how I plan the rest of the demands on my schedule, I usually end up giving some product away, so it won't spoil. I can only move so fast through my canning and dehydrating because of all the other responsibilities I have.
Aren't I blessed with work?! And it is a blessing of the highest merit. I just need to be disciplined with myself and stick to my plan!
When I don't stick to my plan, there's always Off Season Food Preservation – be sure to check out that article to remove food preservation guilt when everything can't be done at once!
A Few More Preservation Goal Resources
So, are you ready to form a rough plan now? Just in case you need a little more inspiration, here are some more good articles. Be sure to leave any questions in the comments section and be sure to share with us your plans to inspire other readers!