The sign up sheet for the women's meeting at church just said, "Bring something pumpkin-y".  The kids said, "Can we make more marshmallows?"  I said, "Gourmet Marshmallows with pumpkin and spice, anyone?"
This recipe for gourmet marshmallows is such a favorite of ours that we put it into our book, The Do It Yourself Homestead
.  There are a lot of other kitchen DIYs, plus information on a myriad of homesteading topics.  From tips to goal setting to down-to-earth information, there's bound to be something that will interest you in its 400 pages and four different levels of homesteading experience!  For a free sample from our Homestead Kitchen chapter, just email me at Tessa@Homesteadlady.com.  To learn more about the book, check it out below:
Gourmet Marshmallows for Fall
Its the time of year to have cooked pumpkin in your fridge or canned pumpkin on your shelves.  Here is a delightful thing to do with America's favorite squash, and different ways to dress it up.
Pumpkin Spice Marshmallows
For those of you who have made their own marshmallows before, this is a basic recipe with pumpkin thrown in.  For those who haven't made their own gourmet marshmallows before, this is NOT as hard as it might seem.
Ingredients
Instructions
Do this first so it's ready:
Prepare an 8 1/2 x 11 casserole dish
one of two ways: you can grease the dish with high quality fat and then dust it (powdered sugar, coconut flour
, cocoa are just a few ideas). OR, you can simply place parchment sheet to fit (including up the sides) inside the dish. The parchment paper wont lie down until the marshmallow is weighting it down but once they're dry, the paper will just peel off the marshmallows.
Then the bloom:
Put the gelatin and first 1/2 cup of water in the bottom of your stand mixer
bowl (or any bowl).  Slightly stir it to make sure all the gelatin is submerged in the water. This will cause the gelatin to "bloom" (or poof up a bit).
Mix it up:
Once gelatin has completely soaked into the water and has bloomed, add the pumpkin and mix thoroughly in bowl.
Heat the honey, 2nd water and salt in a medium saucepan on medium heat until boiling.
Gently boil honey while constantly stirring, until candy thermometer reaches 225 degrees. the honey should bubble, froth and turn a deeper caramel color.
Once temperature is reached, immediately remove from heat and slowly stir honey mixture into pumpkin mixture. Turn your mixer on low/medium (use the whisk attachment) and drizzle the honey down the inside of the bowl and at a slow, steady rate.
Mix to incorporate, stopping to scrape down sides a few times.
Once honey and pumpkin are mixed, put the collar on your mixing bowl (if you have one) and/or place a towel over the top of the bowl to prevent splashes. Believe me, you do NOT want to scrape marshmallow goo from off your fridge. Or off your toddler.
Turn the mixer to high and watch for it to magically transform from slop into marshmallow cream. This can take anywhere from 8-20 minutes.
Spoon the marshmallow cream into your prepared dish with a greased scraper. If you forget to grease it, your kids will happily suck off the sticky goo that's left. Waste not, want not.
For softer marshmallows, let them set up for 4-6 hours. For dryer marshmallows, let them set up for 8-24 hours.
Use a greased pizza cutter for streamlined sizing OR you can use greased cookie cutters. Dust your marshmallows in powdered sugar. Other ideas include cinnamon, cocoa, coconut flour or roll them in chocolate chips, chopped nuts, cookie crumbs. Anything tasty that will hold still long enough will be suitable.
A Few More Gourmet Treat Tips
For more information on making healthier marshmallows, please visit our post on the subject here.
For more tips on candy making in general, please visit this post from Joybilee Farm.
Grow Your Own Pumpkins
If you truly want to be hip with your gourmet marshmallows, learn how to grow you own pumpkins! Here are a few gems of advice on growing pumpkins from Schneider Peeps.  Here, too, is her great garden resource The Garden Notebook; check it out below:
If you're learning how to harvest, store and use pumpkins, I can recommend this article from Homespun Seasonal Living.  And here's a roundup of seed saving tips from The 104 Homestead where pumpkins are to be found.
Here's how to make your own pumpkin puree from The Easy Homestead.
A Gift That's Good to Think
Remember in Michael Pollan's book The Omnivore's Dilemma
when he talks about "food that's good to think," as well as good to eat?  (You can read our review of that book here.)
Well, the best part about these gourmet marshmallows was that I could take them to our ladies activity at church and serve them to a friend who's gone off refined sugar.  I trusted all the ingredients as being as healthy as possible and knew where they'd come from.
It is true that the honey gets heated so high that its really just sugar.  However, at least it starts out as something not as disgusting as white sugar, right?  Being such a foodie, I want to encourage all the "alternative" eating I can at church so I'm not the only weirdo. Ever feel like that?
If you're going to give these as a gift, be sure to check out my friend Kathie's quick and adorable little book called Gift it From Scratch.  Click below for more information: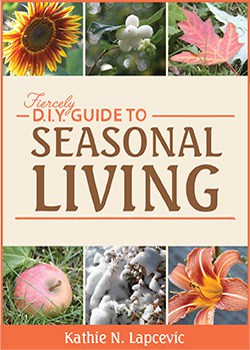 Free Sample
Remember to email me for a free sample of The Homestead Kitchen chapter from The Do It Yourself Homestead
.  We hope the book will be of use to you, but don't just take our word for it.  Here's what homesteader and chef Stacy Lynn Harris has to say about the book:
---
Disclaimer

: Information offered on the 

Homestead Lady

 website is for educational purposes only. Read my full disclaimer HERE.
---