Learning to make your own fruit leather is NOT difficult. If you have a blender and an oven (even a solar oven), you can do this kitchen DIY! Plus, you'll never have to buy that packaged "fruit" roll up nonsense again!
For more DIY kitchen tips, be sure to check out The Homestead Kitchen chapter of our book, The Do It Yourself Homestead
. Don't have your own copy of the book? No worries, you can get either the e-version or the print version here. If you'd like to see a sample section of the kitchen chapter, just send me an email at Tessa@Homesteadlady.com.
Healthy Snack
Homemade fruit leather is an amazingly easy, wonderfully delicious and healthy snack. All you need is fruit, a blender
and a dehydrator
of some kind. The oven can be your gas or electric oven set on very low, but even a solar oven will work if the sun is shining!
So as the cherries come on (and the pears and the peaches, apples, marionberries and more), just remember to buy a little extra to make your own fruit leather. If you're growing your own fruit, you can plan to harvest and make fruit leather into the fall as you're preserving your harvest in other ways, too.
Even a handful of fruit can make several sheets of fruit leather so feel free to experiment with fruit combinations and additives like spices. Today, I'll show you how to make apricot fruit leather from fresh apricots.
(You can generally follow these instructions for using canned fruit, if you prefer. You'll most likely use less, if any, sweetener when using canned fruit.)
Don't Forget to Add Kids
This is a really good kitchen activity for children and grandchildren, FYI. Young children will need supervision around knives, blenders and ovens, of course. However, none of the tasks involved in making fruit leather are too complicated for children.
Learning to:
follow instruction
chop fruit
pour out puree
and monitor the progress of the fruit leather as it dehydrates
are all good skills for children to learn.
As you're working together in the kitchen, you can also pass on a little bit of why you're bothering to make your own fruit leather. You can talk about food preservation and the importance of eating healthy foods, especially snack foods.
What started out a chore can turn into a teaching moment.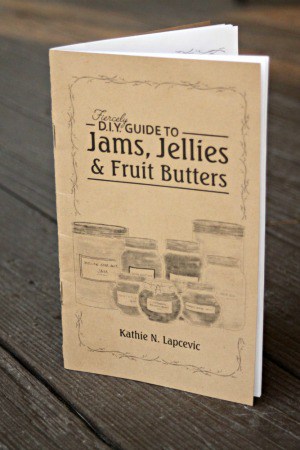 Steps to Make Fruit Leather
Prepare the Fruit
Here's how to make your own fruit leather in a few easy steps:
Get fruit from your backyard, your grandma's house, the farm down the road. Wash it off.
I'm using apricots in these pictures, but you can make fruit leather out of just about any fruit.
Cut out and compost seeds, stems or cores and place the prepared fruit into your blender body. Puree the fruit until it's liquefied.
Soft fruits like apricots just need to be pitted and thrown directly into a blender or food processor to become the right consistency.
If it's a harder fruit like apples, simmer cut up chunks in water for about twenty minutes to soften them before you blend them.
Do I Need to Add Sugar?
Taste your puree. Does it need sweetener?
You can use any sugar including raw honey and erythritol
, but taste test both because they're very sweet. You can use a raw sugar like succanat
, too.
If you use any granulated sugar, add it to taste to the blender body and blend until the sugar is dissolved.
Also, If you'd like to prevent possible browning or discoloration of your fruit, add one tablespoon of lemon juice concentrate for every cup of fruit. I never bother with this, FYI.
How Much Fruit Puree Do I Need?
How much fruit to blend depends entirely on how much leather you want to make. Four cups of fruit approximately becomes two cup of fruit puree which will be enough for one dehydrator sheet.
Be sure to completely blend it down. If you have chunks of fruit leftover, they won't dry at the same rate as the rest of your fruit leather and may lead to mold.
Dehydrate the Puree
The first step is to decide how you will dehydrate your fruit puree – whether in a dehydrator, electric or solar oven. The only tricky step after that is to evenly pour out the fruit puree. Instructions follow below.
Line a dehydrator tray* with a dehydrator sheet or silicone mat and pour the puree evenly onto it. Use a spatula of some kind to spread the fruit glop evenly over the tray.
Be sure there aren't any holes in your spread and, likewise, that there aren't any large clumps of puree. Even drying is the key to quality fruit leather that will last without molding.
*If you don't have a dehydrator, use a rimmed baking sheet (like a jelly roll pan) and line it with parchment paper.
When using your solar oven, double check that your baking sheet will fit inside of it before you pour out your the puree. If the baking sheet is too large, you can use any pan that will fit. A baking sheet just allows you to dehydrate a lot of fruit leather at once.
For best results, keep the thickness around 1/4 inch. The thinner the spread, the faster it will dry.
Dehydrating the Fruit Leather
In a Dehydrator
Stack filled trays in the dehydrator and turn it on. If you want your homemade fruit leather raw, set it to under 115 F/46 C. To read more about the raw or living foods setting for fruit leather, please visit this article from Dehydrating Made Easy, about halfway down the post. Otherwise set the dehydrator around 135 F/ 57 C.
Finish time for fruit leather dries in a dehydrator is dependent on A LOT of factors (like ambient humidity and to what temp you set your dehydrator). I like my fruit leather to stay pretty pliable, so I start checking on it from 4-6 hours, unless it's summer (in which case it will probably need 8 hours).
In an Electric Oven
Here's a great tutorial from Two Peas and their Pod for using your oven instead of a dehydrator.
Most ovens only go down to about 170 F/76 C, so keep your eye on your fruit leather to keep it from over-drying. Best rule of thumb is to check it every hour. Set a timer, if you need to.
Full disclosure, I'm too scatter-brained for this method and always burn it. That's why I finally bought a dehydrator
.
In a Solar Oven
In a solar oven, with the lid vented to allow moisture to escape, check the leather every few hours. To learn more about dehydrating fruit in a solar oven, click here.
Fruit leather dries from the outside towards the center so just make sure that your finger doesn't leave an imprint when you press it into the center.
Finish Processing
To ensure completion of the dehydration process, your fruit leather should feel dry to the touch. Your finger should not be able to leave an indentation in the surface. Stickiness isn't always a good gauge because fruit sugar is naturally sticky, but if you're concerned your leather is still too sticky, dehydrate it a bit more.
Remove the fruit leather from the liner and allow it to cool. It should come off the liner easily; if it sticks or is still mushy, you know it needs more dehydrating time.
Cut the fruit leather into bite size pieces, strips or do the classic fruit roll-up thing. Store in plastic or glass.
You can also put wax paper or butcher paper in between your rolls of homemade leather to ensure they don't stick to each other.
According to the National Center for Home Food Safety, you can plan to store your leather for one month at room temperature and about a year if tightly wrapped and placed in the freezer.
Favorite Kinds of Fruit Leather?
What's our favorite fruit leather to make ourselves, you ask?
Pear leather with a touch of cinnamon mixed into the fruit glop before you dehydrate them. Then, oh-so important, we spread some soft, delectable cream cheese over the leather, roll it up and cut it into bit size pieces. People have been known to lose fingers at the table over these.
Here's a rhubarb cranberry recipe for leather from DIY Natural for a powerhouse of health.
Or how about Pumpkin Pie Leather from Common Sense Homesteading?
What's your favorite kind to make? What combinations are you contemplating, if you're new to making fruit leather?
Cover image gratefully attributed to the Wikipedia Commons user linked.