Are you a new canner and need all the advice you can get?  Worried about which canning jars to use and which lids are the best?  From canning jars to equipment to recipes, here's a great round up of newbie canning information. 
When you're first starting to can, there can be a lot of things on your mind. So, let's talk basics as you begin your canning journey.
Special Note: If you have children, be sure to include them in the canning activities in the home in ways that are appropriate for their age.  Stuff is hot and goopey and they may "get in your way" but just consider how your efforts will pay off later.  You'll learn to can together and, eventually, you'll have canning assistants able to assist or even take over some of your canning duties.  Plus, the kids are less likely to waste any food they've canned themselves after all that work!
If you're completely new to this canning thing, take some time to experiment on your own.  However, once you've got jam and pickles down, invite the kids into the kitchen to help and learn!  Here are some tips for Canning With Children from Canning Across America.
Ok, back to our regularly schedule programming…
Why Canning?
Chances are if you're reading this post, you have already thought about this question.  Canning is a method of food preservation
that has been used for consistently since the early 1800's.  In our modern culture,  you can just run to the store and buy canned tomatoes, corn, beans, soups – even fruits and pie fillings!  Not to mention, preserved condiments like salsa and ketchup.  So, one may well ask: why bother canning today?
Have Control
Canning your own food provides control.  You control exactly what goes into each home-canned jar of food.  Many commercially canned foods contain elevated amounts of salt and other preservatives.  There are also potential problems with pesticides and herbicides making it into your food.  Save yourself a headache and preserve foods you've grown yourself according to methods of which you approve and/or buy in bulk from growers you trust.  More on that in a minute.
Save Money
Another good reason to can your own is to save money – most of the time.  When canned corn goes on sale I can't honestly say that it's cheaper for me to can my own home-grown, organic corn (especially when you factor in my time).  However, when I start getting to items like organic tomato sauce, large cans of apple sauce and, especially, organic stews and soups the savings begin to mount.
Plus, as I said, I can control all the ingredients and only use those that I know my family will enjoy.
Learn More
To learn more about canning, especially how to do it safely and appropriately, visit the National Center for Home Food Preservation and take their free, online course on canning.  They even have a section for youth called Put it Up!
Keep reading for even more information!
What are Canning Jars?
Canning jars
are made of glass and come in many different sizes.  Most typically you can find pint size, quart size and even half gallon size jars.  Canning jars also come in decorative colors and unusual shapes especially made for gift giving.  Here are some pretty ones:
You can buy them new, of course, but you can also often find them at thrift stores, yard sales and from your elderly neighbor who just doesn't feel like canning anymore.
There are basically two kinds of canning jar lids
.  One is made of metal and consists of two parts: a metal lid with an attached rubber seal and a metal ring that secures the lid.  There is also a BPA-free plastic canning jar lid made by Tattler
that has a plastic body with a separate rubber ring.  The metal lids are a one time use (though the ring is reusable), but the Tattler lids
are made to be used over and over.
Both come in two different sizes to it the two different standard sized canning jars: wide mouth and narrow mouth.
To learn more about using Tattler lids, click here. You can expect to pay more for the Tattlers but you may decide they're worth it over time.  I love mine but still use the metals lids – both are great!
To learn more about the anatomy of a canning jar, please click on this post from Attainable Sustainable.
What Other Canning Equipment do I Need?
Don't get overwhelmed by the word equipment.  There are certain tools you need to can successfully besides canning jars.  You'll need some kind of consistent heat source like a stove or outdoor camping stove.  In fact, if you are able to can outside, be sure you do because it's a very hot activity!
Water Bath Canners
To can high acid foods like jams, pickles and salsa you'll need just a water bath canner.
  They look like this:
Water bath canners come in different sizes and usually come with a rack for the bottom of the pot (to keep the jar bottoms safe from cracking). The best part about water bath canners is that they're usually roomy and you can fit a number of canning jars inside.  They're also cheaper than pressure canners and the products you preserve in them have typically shorter processing times (the amount of time your jars of food are inside the canner).
To learn more about using a water bath canner, please visit this post from The 104 Homestead.
Their only drawback is that you can't can everything in them.  Some foods with lower acids levels require longer processing times under pressure.  That's why they're preserved in something called a pressure canner.
Pressure Canners
A Pressure Canner
looks like this (well, this is my favorite kind!)
Pressure canners are usually heavier, often dual walled pots (the good ones, anyway) with a close fitting lid and some kind of pressure gauge.  Using a pressure canner may sound harder and while it does take practice and you must follow the instructions, it's really not hard.  You're very smart and I have absolute confidence that you can figure it out.  If I could, you certainly can.
For more information on how to use a pressure canner, visit this link from Simply Canning. And this one from Joybilee Farm on using your Pressure Canner with Confidence.
Other Items You'll Want
There are packet of smaller, simple equipment that you'll probably want, too.  These tools look like this:
The jar lifter and the magnetized lid lifter really, really come in handy for lifting things out of the hot water involved with canning.
You may also want pectin, if you're canning jams, jellies and/or pie filling.  My favorite kind of pectin is the non-GMO, natural fruit pectin from Pamona's.
  It looks like this:
For more information on how to use Pamona's (it's a bit different from the more common, but not as healthy pectins), please click here.
For jams and other sweet treats, you will also need some kind of sugar.  You can replace sugar with honey, if you prefer that flavor, as we did in this recipe for Dandelion Forsythia Jelly.  Once you heat raw honey it cooks a lot of the beneficial elements of raw honey so you needn't use it unless you prefer the flavor.  There are healthier sugars, if you're looking for some, though.  Here's my favorite brand:
A Few Favorite Canning Recipes
All the canned and many of the bottled foods you find in the store you can duplicate in your home canning efforts.  You can buy raw products in bulk from your local grocer or growers and/or grow your own.  Farmer's market vendors will often save back boxes of bruised produce for their canning clients and provide them with quality produce at a reduced cost.
You don't have to can in large batches, though.  If you have smaller amounts of produce or ready-made meal ingredients that you'd like to preserve, those are simple to can, as well.  Often, small batch canning is a welcome reprieve from the larger batches.  For more information on small batch canning, please visit this post from Every Growing Farm.
Canning Books
There are scads of canning books with recipes and scores of canning recipes online.  Here are a few good canning books:
You can read my review of Daisy Luther's The Organic Canners by clicking here.  If you need a delectable jams and jellies book, please click below to learn more about this one: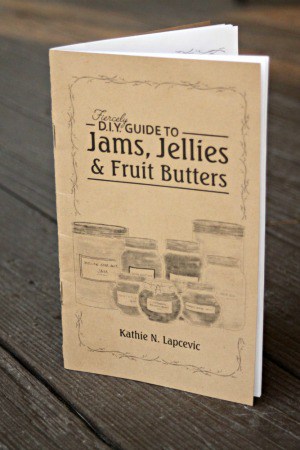 Canning Posts
And here are a few of my favorite bloggers and their canning recipes (most of these bloggers have way more than one recipe, so it's worth sticking around their site and nosing around).  Oh, and there are a few from Homestead Lady here, too:
Canning Chunky Applesauce from Homespun Seasonal Living
Pressured Canned Green Beans from The Elliot Homestead
Pressure Canning Dried Beans from Learning and Yearning
Granny's Bread and Butter Pickles from Grow a Good Life
Spaghetti Sauce from Fresh Tomatoes from Common Sense Homesteading
Canning Stew – The Ultimate Convenience Food from Schneider Peeps
Best Canning Video EVER!
Kendra from New Life on a Homestead produced a wonderful video for canners on the basics, plus lots of cool tips and tricks that even seasoned canners will appreciate.  Click below for more information:
That video and more can be found at our favorite small business homesteader supply, Pantry Paratus (click below)"
---
Disclaimer

: Information offered on the 

Homestead Lady

 website is for educational purposes only. Read my full disclaimer HERE.
---
Cover photo attribution given with gratitude to this Wikipedia Commons user.