If you're an applesauce fan, you have got to try this simple caramel applesauce for a tasty twist on a classic snack.  This recipe is safe for canning so that you can enjoy it all year round!
If nifty DIYs are your thing, be sure to check out our book, The Do It Yourself Homestead
.  If you'd like a sample of The Homestead Kitchen chapter, just shoot me an email through the site and I'll get you hooked up.  I may even send along a little gift.  To learn more about the book, click below:
Applesauce is in the Apples
First of all, you'll want to pick a sweet apple for this recipe.  Something like a Jonagold will work well.  You can choose one with a little bit of a bite to it, but not too much.  To get that smooth caramel flavor, you don't want something like a Granny Smith interfering with the flavor.
Applesauce is a great way to use up wormy, foraged or surplus apples.  Simply cut away any yucky parts, including seeds and core, and your imperfect apples will be put to good use.  This year, we used apples we foraged from an old homestead.  The house is long gone, but the land has all become a neighborhood park.  Here and there, you run into reminders that this place was once a thriving homestead.  There are random apple trees in obscure places and hidden herbs here and there.
Coconut Sugar for that Caramel Flavor
The key ingredient in this recipe, apart from quality apples, is coconut sugar.  Rapadura, Succanat and even brown sugar will work to a degree.  You'll see that we mixed a few of those sugars into the recipe to give it depth.  However, the best flavor will come from coconut sugar, in my opinion.  If you don't have that, you can use rapadura or succanat – though I think they taste more maple-y than caramel-y.
Another thing to note is that the amount of sugar in this recipe is adjustable to your desired flavor.  Apples are acidic enough to safely water bath can on their own.  Simply Canning can tell you how to make regular applesauce with or without added sugar – click here to learn how.
Recipe for Caramel Applesauce for Canning
This applesauce has a deep, rich flavor reminiscent of caramel, while still maintaining a bit of the bite of a fresh apple.
Ingredients
Instructions
Wash, core and quarter apples.  Retain cores to make apple cider vinegar – click here to learn how.
Cook the apples over medium heat until they're soft in a large stock pot with about an inch of water on the bottom.
Allow the apples to cool.
Puree the apples in your blender or food processor, pouring the puree back into your stock pot.
Add the sugars and spices, stirring until the sugar is dissolved and evenly distributed.  Allow to sit for at least twenty minutes so the flavors can mellow.  Taste test.  Add more sugar and spice if necessary.
Reheat the puree in the stock pot.
Prepare your canning jars, seals and lids and process in a water bath canner for 20 minutes.  Remember to adjust time for your altitude.
Notes
If I'm using this caramel applesauce as a snack food for the kids, I add less sugar.  There's a hint of caramel and spice and it has a warm, smooth flavor.
If I'm going to use this as an ice cream topper or as a sweet add-on to our Rosh Hashanah latkes, then I add a bit more sugar to make that caramel flavor pop.  Either way, this caramel applesauce is truly tasty.  We're not Jewish, but we have so much fun celebrating this time of year along with our Jewish friends.  And any excuse to make this caramel applesauce and latkes is happily made use of.  Shanah Tovah, my friends!
Applesauce Canning with Kids
Applesauce is certainly something that an older child can handle making on their own.  Water bath canning is very straightforward.  The fruit preparation is simple, as along as a child has been taught proper knife skills.
It's fun to taste test together and chat around the stock pot, but be sure to let your older children do this as much as they can on their own.  Be sure to go over altitude/processing time adjustments with them as you both get the canner set up.  It's good to be in the kitchen for that part just to be sure everything is in order.
To learn more about teaching kids to can safely, check out The National Center For Home Food Preservation's free program for kids called Put It Up.
Incidentally, this caramel applesauce makes a fantastic teacher or youth leader gift.  My daughter left for her youth activity at church tonight with four pints of this applesauce tucked into her bag to give as gifts to her leaders.  That girl's been raised right, if I do say so myself.
For more gloriously unique and tasty canning recipes, be sure to check out my friend Kathie's book below: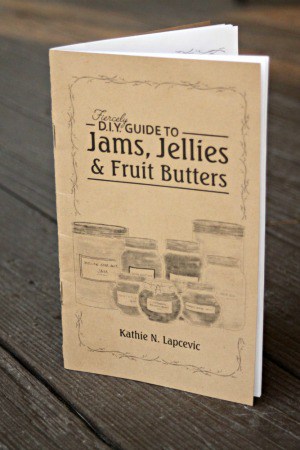 Free Sample
Don't forget to email me for that free sample from The Do It Yourself Homestead!  We hope the book will be of use to you, but don't just take our word for it.  Here's what chef and cookbook author Stacy Lynn Harris had to say about the book:
---
Disclaimer

: Information offered on the 

Homestead Lady

 website is for educational purposes only. Read my full disclaimer HERE.
---