You read that right – Corn Cob Jelly.  I was very skeptical when I first read a recipe for corn cob jelly.  Very.  Skeptical.  I was happy to be wrong.
 For more frugal homesteading information, including a whole chapter of kitchen tips, be sure to check out our book, The Do It Yourself Homestead!  You might just find another handy canning recipe or two in there.  Would you like a sample of the book?  Just shoot me an email at Tessa@homesteadlady.com and I'll get you set up!
Using the Harvest of Corn
So, when you're canning corn (which I hate to do, by the way, but the kids all asked with cow eyes if we could have canned corn this year so what was I supposed to do?!), you end up with a pile of corn cobs.  I usually just feed them to the chickens and don't think anything about it.  I also never make jelly because I prefer jam, with all its chunks and stuff inside.  However, there I was reading along on some canning post and it mentioned corn cob jelly.  I had never heard of it before but after some Googling discovered that there are recipes all over the place.
I'll go ahead and give you the one I created to use with  my Pomona's Pectin because the biggest problem with the recipes I found was that they called for equal parts corn cob juice to sugar.  Bleh.  I'm always using Pomona's Pectin for my low or no sugar jam recipes because the reason I don't like commercial jam is that its way, way too sweet for me.  Pomona's can be a little harder to work with than the other brands of pectin but I like the company and the product for my homemade jams.  I'm not a very precise jam maker (I'm not a very precise anything maker) and I haven't messed up yet with Pomona's.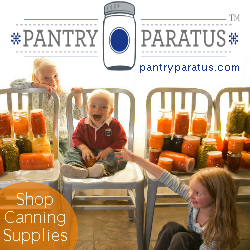 Corn Cob Jelly – Low Sugar
Use up those corn cobs after canning with this simple jelly.
Ingredients
9 Cups of Non-GMO, Corn Cob Juice*
3-4 Cups Organic Sugar or other sweetener (follow the instructions on the Pomona's packet for anything other than sugar.)
4 Tbsps. Pomona's pectin
1 tsp. citric acid
Instructions
* To make corn cob juice, place your stripped cobs (they should be bare of corn kernels) in a large stew pot and cover with water.
Bring to a boil and simmer well for about an hour.
Remove cobs and put in your chicken bucket.  You can strain out the bits of corn that remain but I like them in my jelly and leave them on purpose.
Put your juice and citric acid in a large stock pot on medium/high heat.**
When the juice is hot, add two cups of sugar and taste it.  If you want, add the other cup.
Bring to a boil and add the prepared pectin.***
Return the mixture to a boil while stirring and boil for one minute.  Remove from heat.
Ladle into hot jars, leaving a 1/2″ headroom and process for 20 minutes in a water bath canner.  Remove from the water bath and place on a heat resistant surface.
Don't move your jars or tap your lids for 12-24 hours unless you're certain each one has sealed.  You can know they've sealed if you hear a "pop".  Pomona's Pectin sets up once cooled, FYI.
Special Notes
**If you want to substitute the citric acid with lemon juice, scroll down to the post for a link from Pamona's to tell you how.
 ***You MUST read the instructions for preparing your pectin on the Pomona's insert.  This is the part that makes Pomona's different but its not hard.  You simply need to follow the instructions to liquefy the pectin properly.
 Tips for Corn Cob Jelly
If you need to substitute lemon juice for the citric acid, just follow this link to Pomon's site for instructions.  When you have any questions about using their pectin, just go to the website because its really helpful!  Never never used Pomona's before? you might want to cut this recipe to about 1/3 to test it out.
I'm not particular about jams and jellies but some people have opinions on spreadability and firmness and all that.  That kind of attention to detail is something I aspire to, but its not a skill I currently have.
More on Jellies
I'm really not a big jam/jelly eater to begin with but as I was making this batch of corn cob jelly, I kept finding myself sniffing the brew.  As I was ladling it into jars, I was cleaning up spills with my fingers and popping them into my mouth.  The second I put the corn cob jelly into the water bath to process, I made a piece of toast and slathered it in Kerry Gold butter and leftover corn cob jelly.  The baby came over and begged  spoonfuls and the both of us sat there eating like ravenous pigs.
To learn about more interesting and unique jams and jellies, please check on my friend Kathie's book (you'll know her from her fabulous blog Homespun Seasonal Living).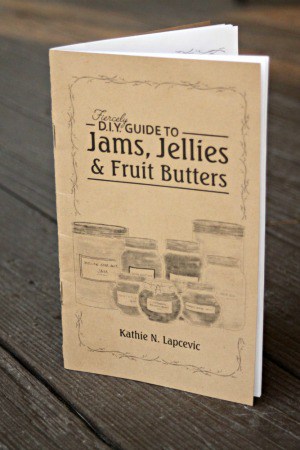 If you're going to can corn…
Corn cob jelly is, simply put, a taste of fall.  Its that taste of the air turning crisp in the mornings and at night, but the days are still warm and full of outdoor work.  Its woodsy – almost like there's a bonfire off in the distance.  It tastes like school starting up again and moms calling their kids in for dinner.  Needless to say, I'm making more.  Corn cob jelly is a great motivation for bothering to can corn!!!
For other ideas on what to do with corn cobs, they are, indeed, considered quite a treat by poultry everywhere.  Or wild birds, if you don't have a backyard flock.  Charley from Cooke's Frontier suggests drying the cobs a bit, covering them in peanut butter and bird seed and making a wild bird feeder with them – genius!  This would be an excellent thing for the kiddos to do, in my opinion.  If they're busy with that, they wont be in the kitchen to catch you sneaking corn cob jelly.
The Rural Economist says in his best permaculture voice,
"I bury cobs under tomato plants.  They soak up water and slowly release it back to the plant as the ground dries." 
Free Sample
Dont' forget to email me for that free sample from our book, The Do It Yourself Homestead
!  I'm hopeful the book will be helpful to you on a myriad of topics and homestead questions.  Here's what author Jan Berry has to say about the book:
---
Disclaimer

: Information offered on the 

Homestead Lady

 website is for educational purposes only. Read my full disclaimer HERE.
---